PMF Racing Team Runs into Hard Luck at Susquehanna 500
January 13, 2010
---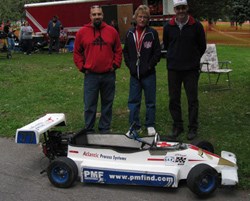 Hard Luck was the theme for the PMF team this year. They completed the time trials in a fairly good time even with some carburetor problems, but during the races things really started to go wrong.

During Saturday's race the carburetor and gas tank came loose and the team could not finish the race. Fred worked on the car Saturday night to prevent carburetor problems from re-occurring.

On Sunday during the Hardship Race, the car stalled and when they tried to restart it the pull cord broke. Although they did not complete a race they tried their best. Congratulations' on a good effort.