Voith Paper
PMF Industries Develops Meticulous Solutions for the Paper-Making Industry
There is a real science to making paper. It requires meticulous processing to get the finished product just right. Voith Paper, a division of the Voith Group, is a full-line supplier to the paper industry. Voith Paper combines knowledge and experience for highly efficient paper mills, offering top performance in every sector and for every paper grade. It provides the largest range of technologies, services, components, and products on the market, and offers paper manufacturers solutions from a single source. The company's continuous stream of innovations takes papermaking to the next level and facilitates resource-conserving production.
Flowforming Solutions
Voith reached out to PMF Industries to have them produce a series of specialty conical tubes with increased material properties. These tubes are mainly used in legacy stock preparation screens for paper machinery and the increased material properties provide longer service life to the product than standard 304/316L stainless steel. The stainless steel tubes consist of a straight wall cylinder and a conical outlet tube that are flowformed as a single unit to provide a uniform thickness, near net shape and material properties that are 35% higher than standard 304/316L stainless steel. After final machining at PMF, the tube is eventually welded to a cast inlet cap at Voith to complete the assembly. PMF completed this part with the following in-house services to manufacture this custom solution for Voith:
Engineering for process development
Welding to reduce tooling cost and provide best utilization of raw material
Press forming for initial shaping of the raw material
Flowforming to complete near net shape, wall thickness and material properties
Machining for final trimming
Challenge Accepted
Ken Healy, PMF's Executive Vice-President/Director of Engineering notes,
"Our team thrives on challenges from our customers. Constructing this unique part for Voith certainly put our problem-solving skills to the test, but we pride ourselves on creating solutions for customers and this part did that for Voith. We've had a long relationship with them and are thrilled that we're measuring the length of our relationship with them in decades."
Ongoing Success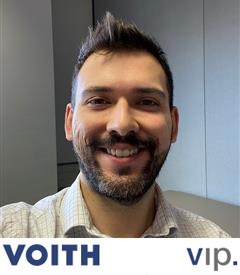 Voith's relationship with PMF continues to grow as they work together to find ways of increasing efficiencies and reducing costs.